The Awaited Return of Tempeh Bak Kwa...
At Angie's Tempeh, we've redefined a beloved classic with our innovative Tempeh Bak Kwa – a plant-based marvel that's 100% handcrafted right here in Singapore. Pioneers in the culinary art of vegan Tempeh Bak Kwa, we've devoted over a year to relentless research and development, perfecting a recipe that's not only delicious but also a testament to our commitment to quality and innovation. Our dedication bore fruit, placing us as finalists at Asia's Great Snack Challenge.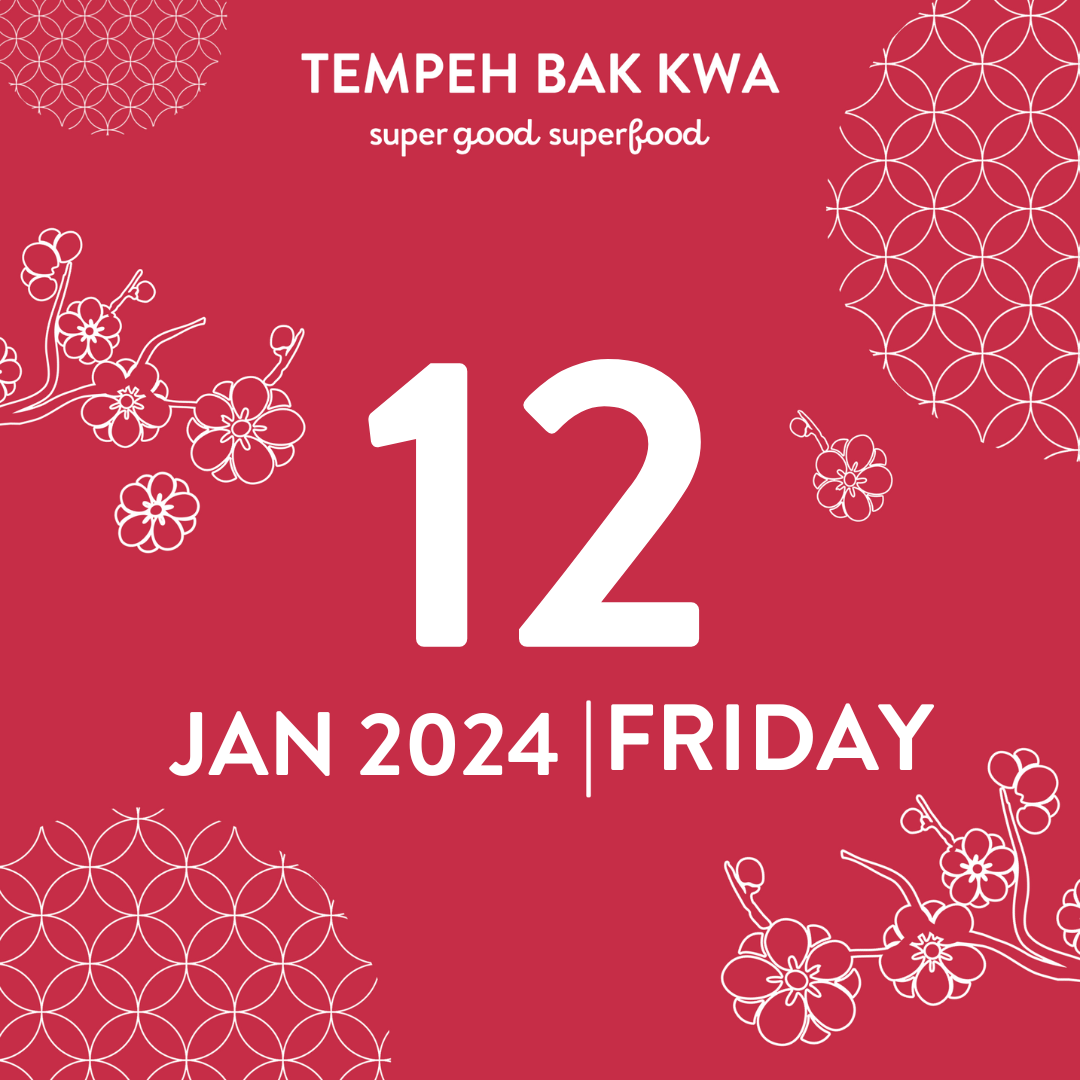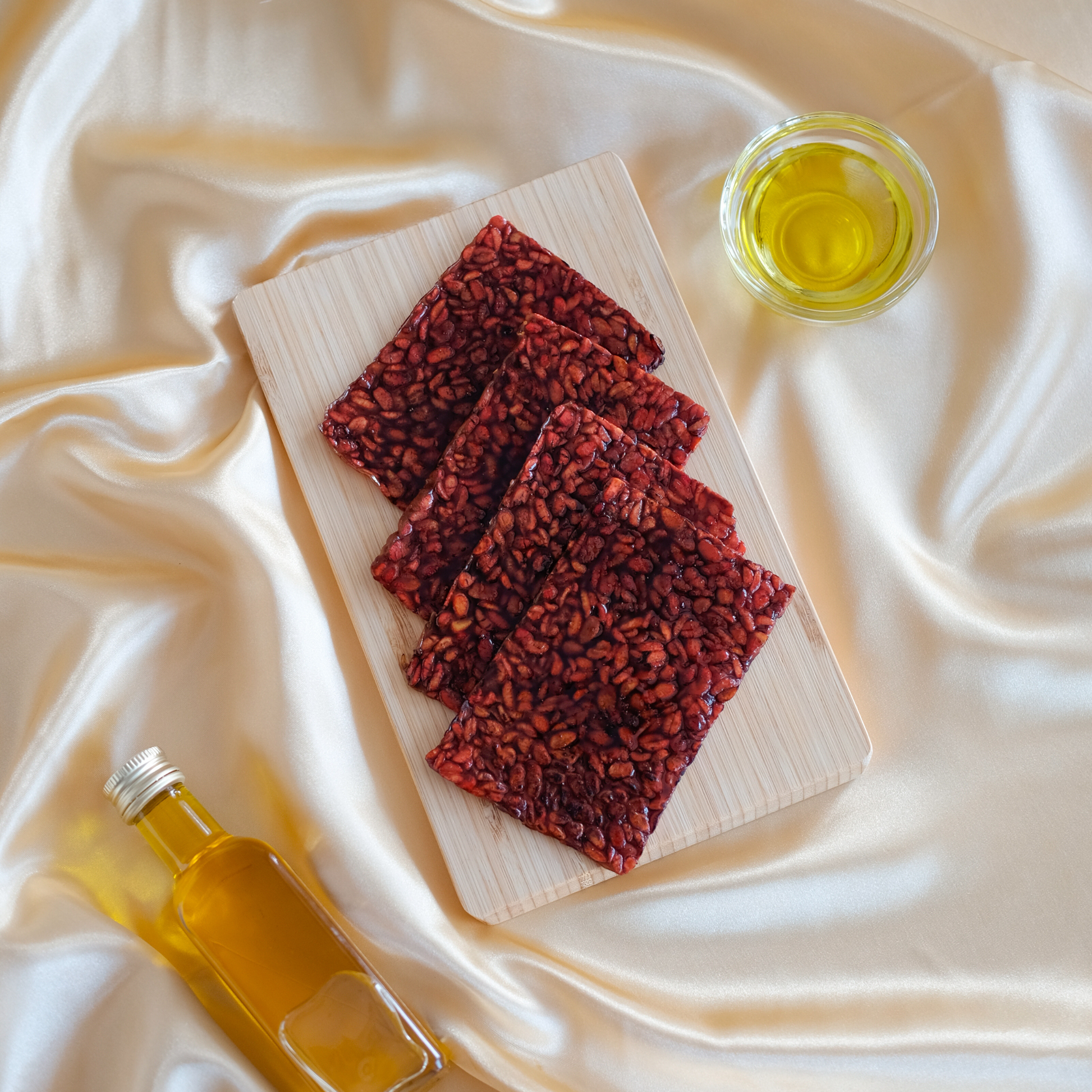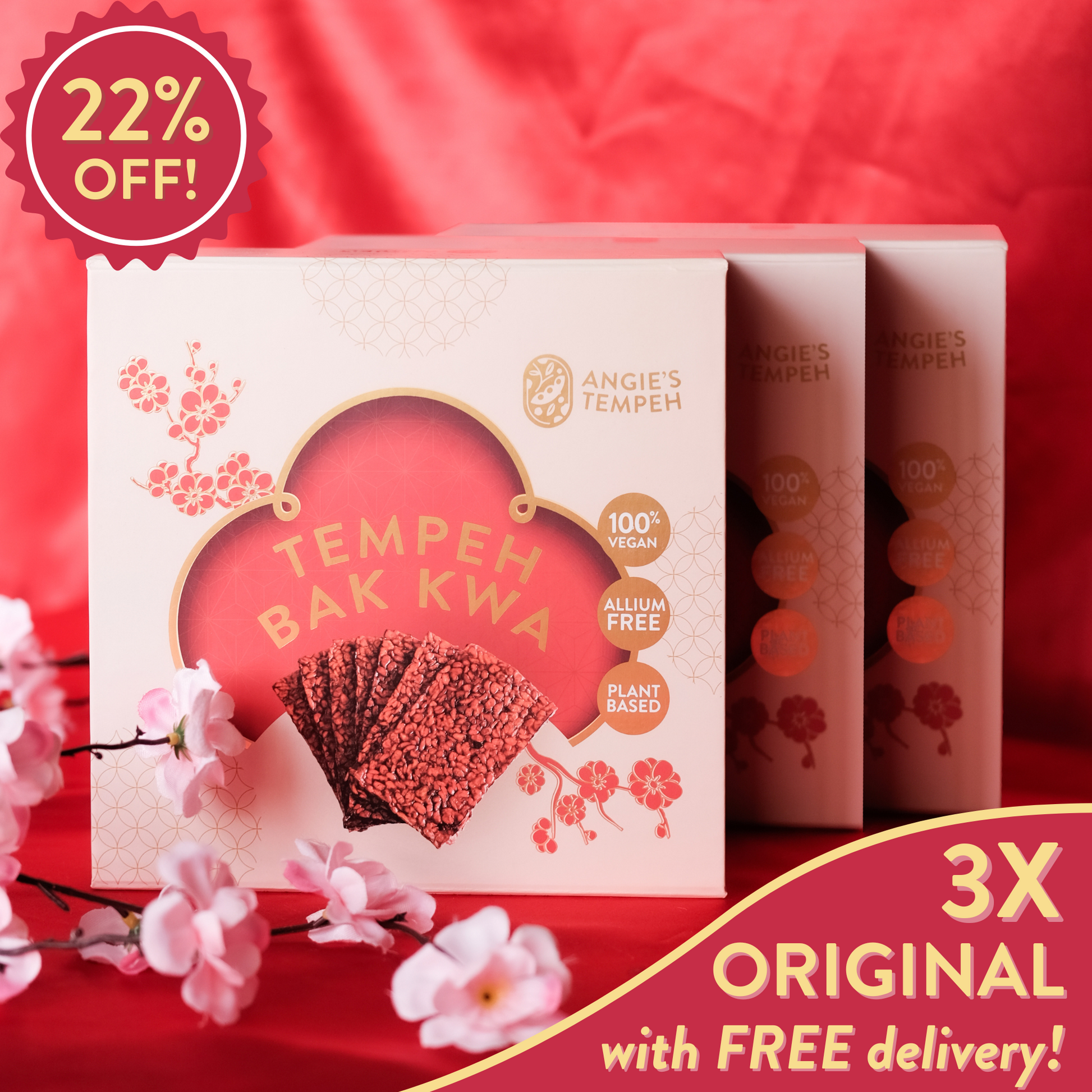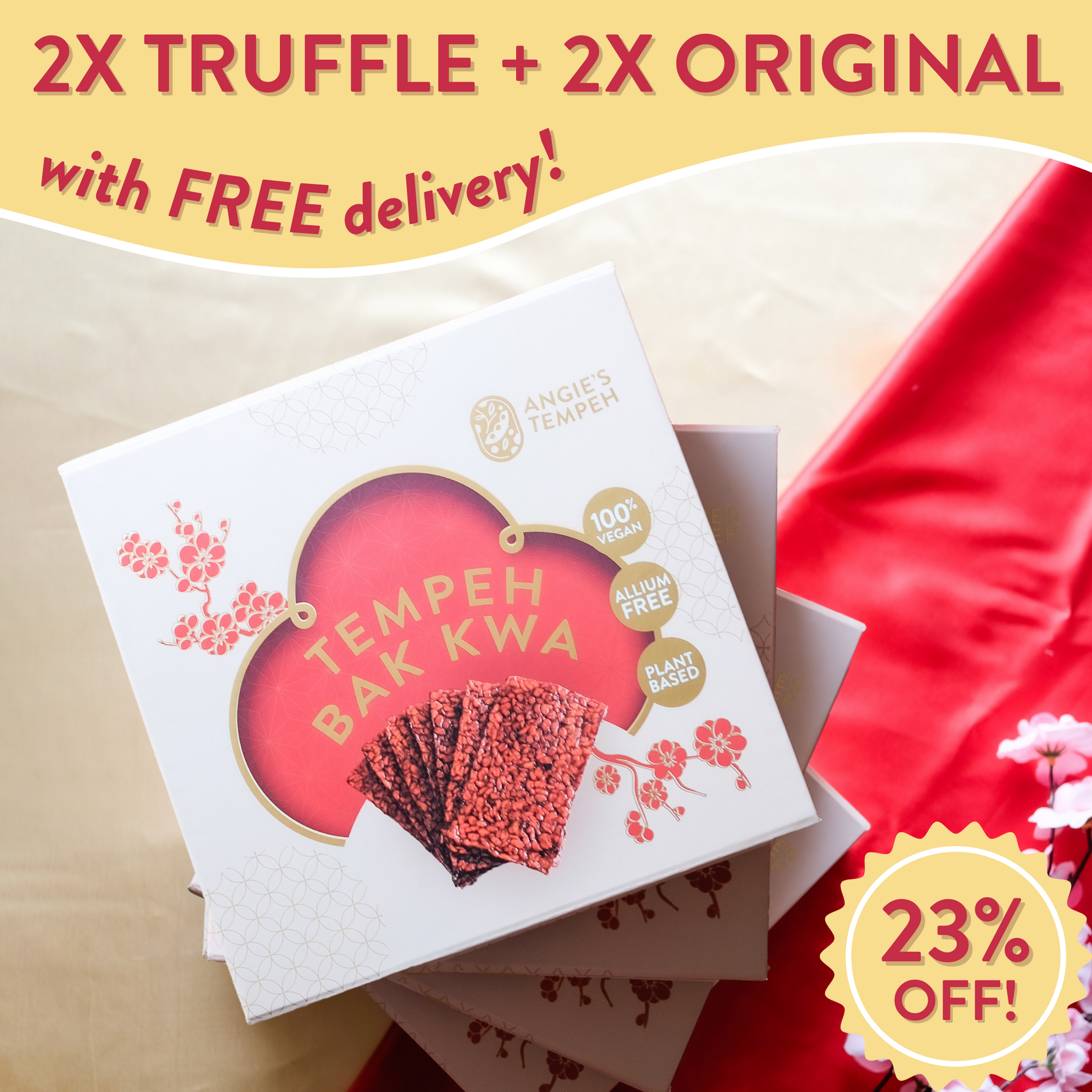 12 JAN 2024 TEMPEH BAK KWA
Regular price
Sale price
$68.00 SGD
Unit price
per
Sale
Sold out
Share
View full details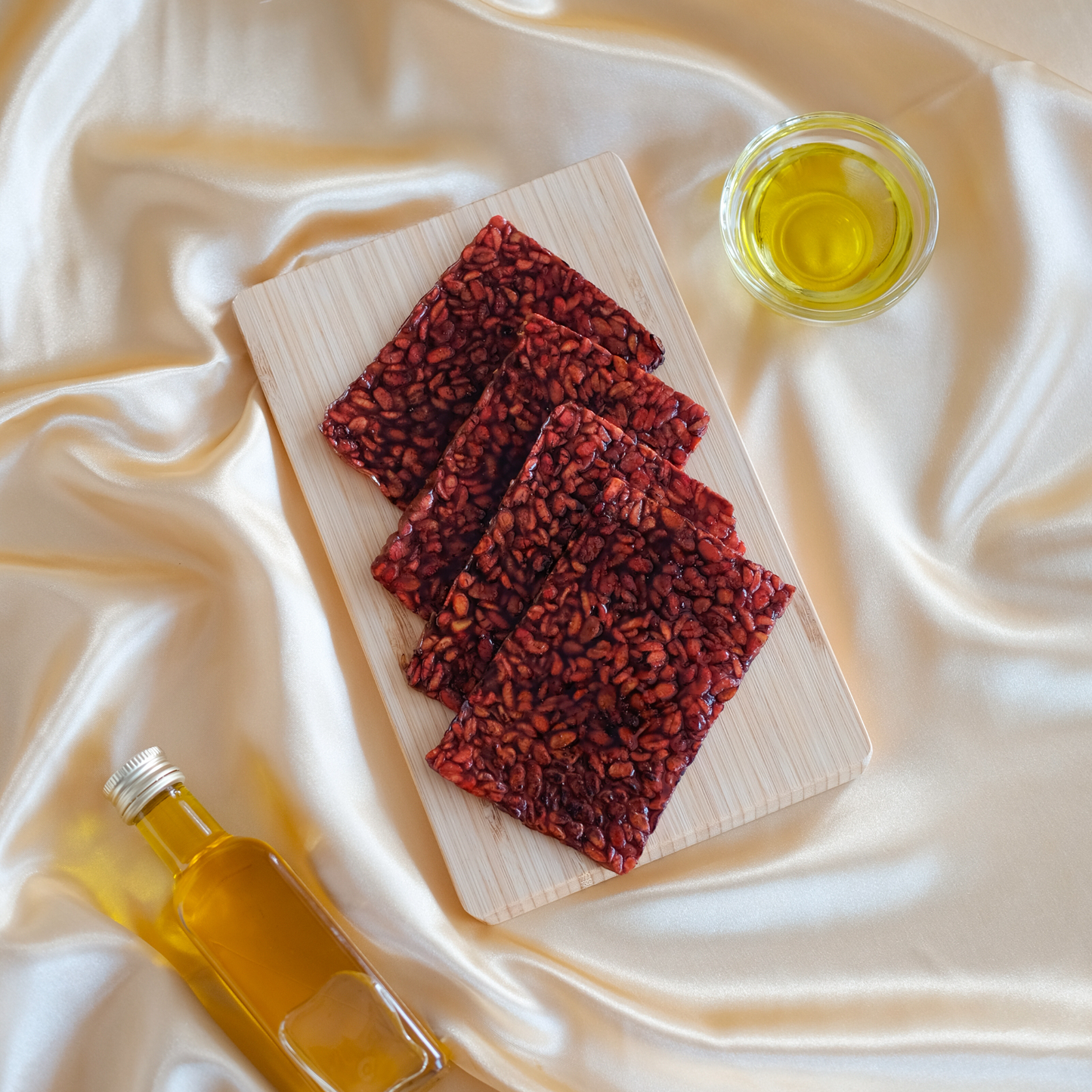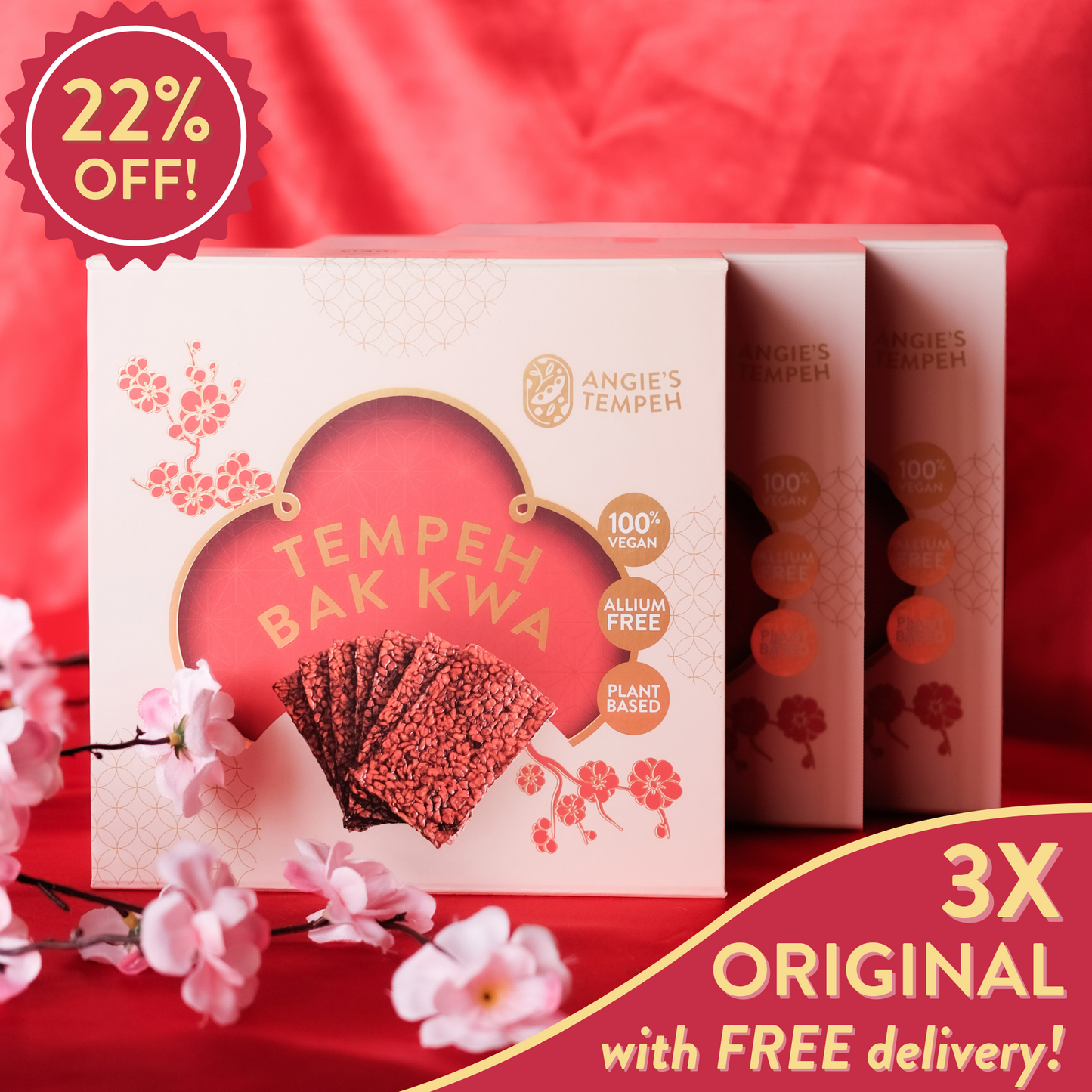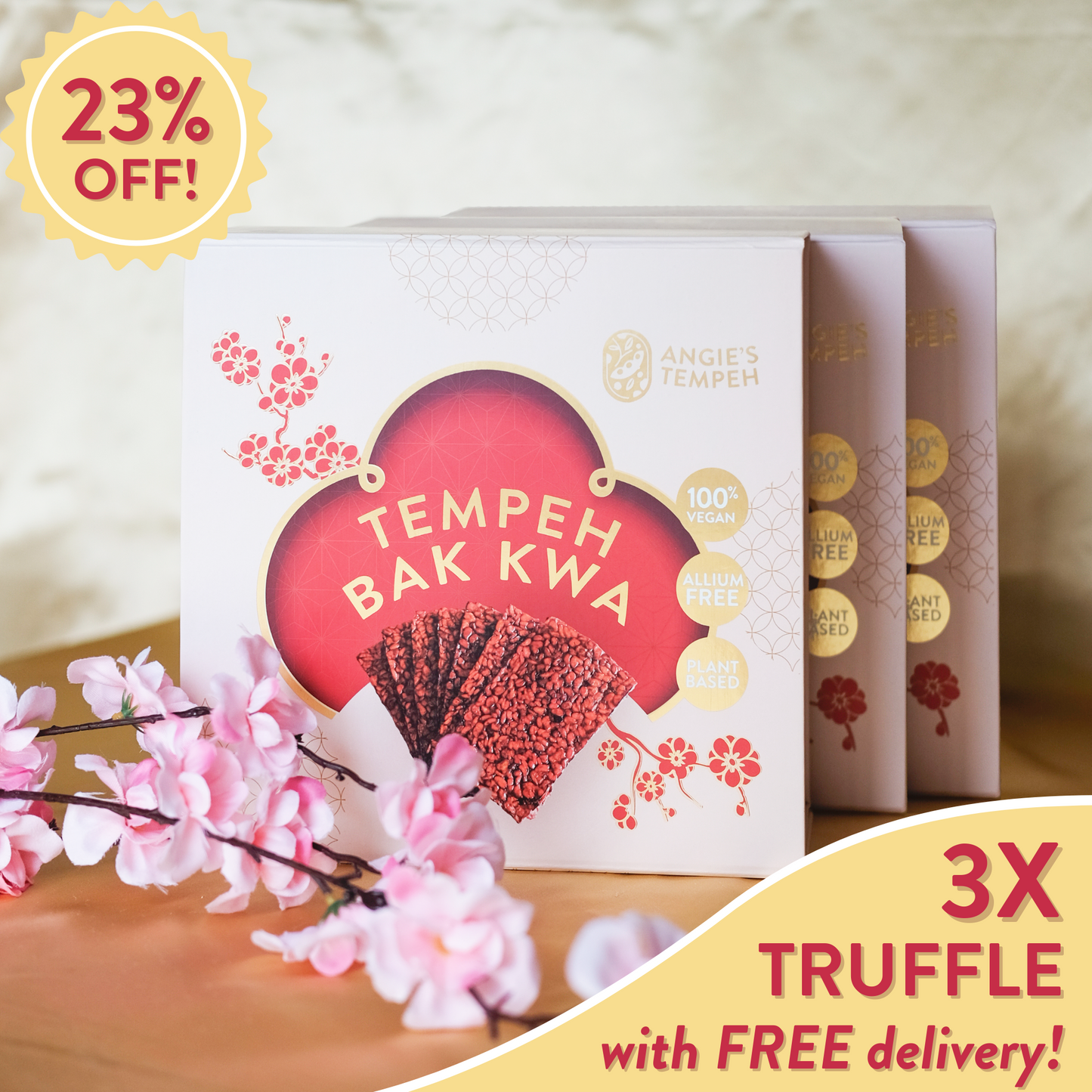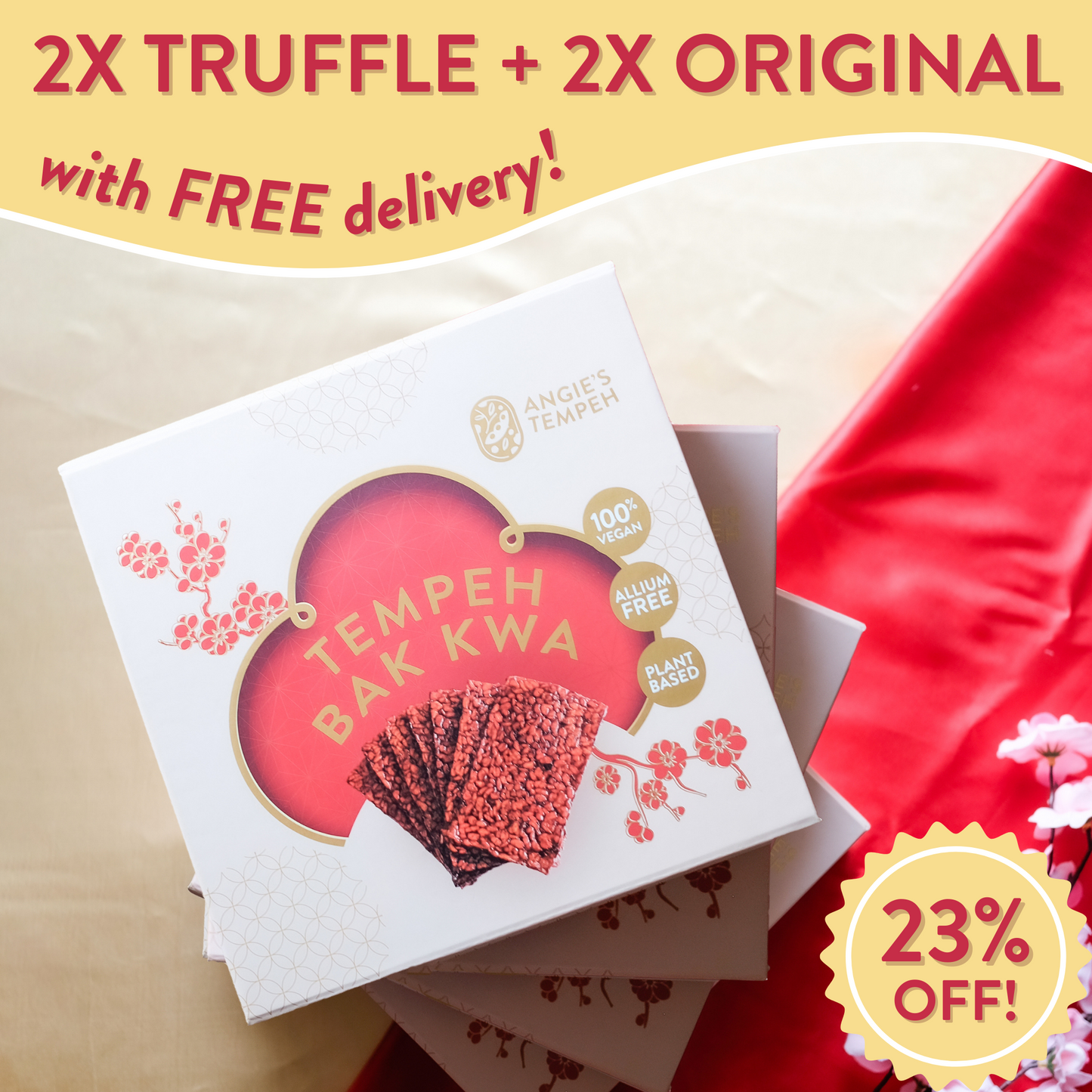 Limited slots for CNY 2024
Because Tempeh Bak Kwa is a handcrafted item, we have very limited slots for CNY 2024. As we have constraints for this year's production, there will be fewer boxes available for sale. If you would like a box, kindly book early. We are usually sold out before January.
Available Slots
Please select the date of delivery. We have very limited available slots this upcoming CNY 2024 because of the handcrafted nature of Tempeh Bak Kwa.
Passion
I wanted a wholesome, natural source of plant protein to fit my lifestyle. I didn't want to eat mock meats or other ingredients filled with additives. I just wanted something simple and delicious, which is why I flew to Bogor, Indonesia to learn how to make tempeh from the authentic tempeh masters.
Read More
Grand Finalist in Competition
Tempeh Bak Kwa is a unique product that we invented by ourselves. We have sold out every year since 2021, 2022 and 2023. We were even placed as Grand Finalist in the Asia's Great Snack Challenge.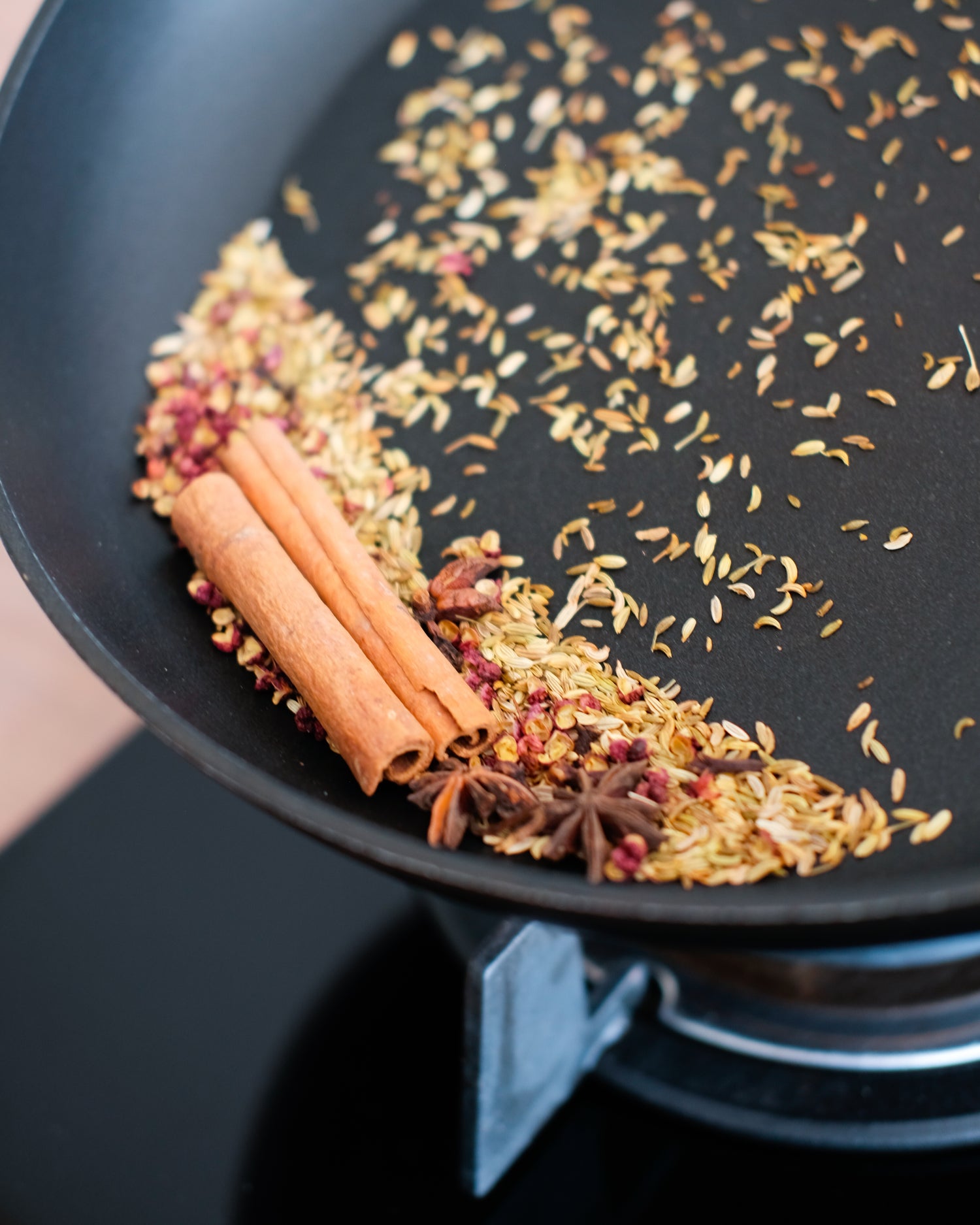 Authentic flavour
We make everything about this Tempeh Bak Kwa from scratch. This includes the fermentation of the tempeh, slicing, baking, marinating, pairing spices, slow-cooking and reducing the sauce, barbecueing, etc. We strive to keep an authentic flavour and craftsmanship to our products.
Artisanal touch meets Science
Consistent innovation is part of our core values and we worked with PhDs, food scientists, and professionals in the food industry to further refine the product to the best of our ability. Your support for our product will help us continue with further innovations as well.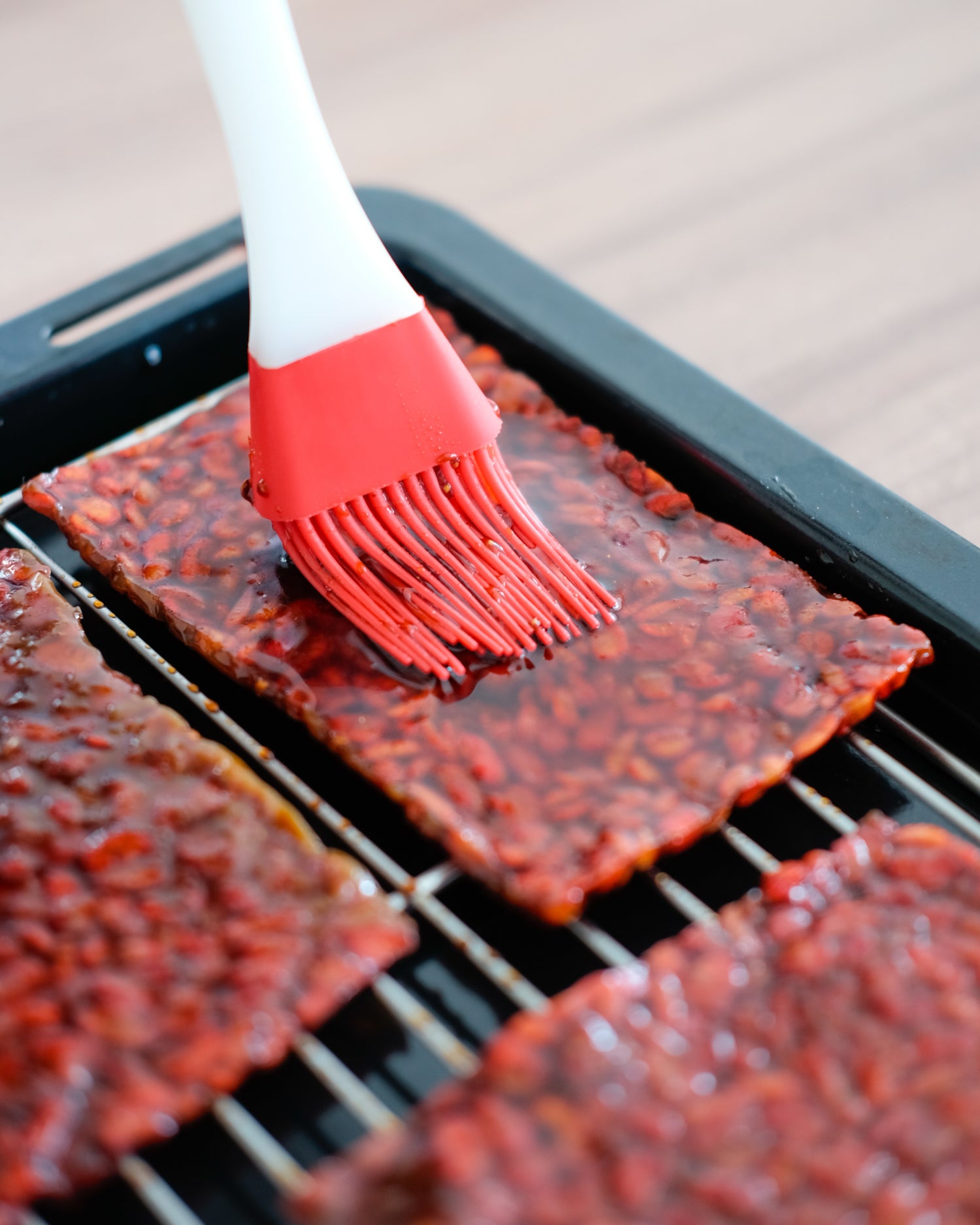 Limited Stock
Due to the nature of this handcrafted product, combined with the increasing costs of operation in Singapore, we have very limited stocks available for ordering in CNY 2024. If you do wish to reserve a box, please do so early as we usually sell out before the new year begins.
Reserve a Box
FAQs
Is the Tempeh Bak Kwa vegan?

Yes, the recipe is vegan and 100% free from animal products. This year we have taken one step further to exclude honey from our recipe such that animal-free products are used.

是的,天贝肉干是纯素食。今年,我们还进一步去掉蜂蜜,确保天贝肉干不含任何动物性产品。
What are the ingredients in the Tempeh Bak Kwa?

Soybeans, Japanese soy sauce, caramel, sugar, rice malt, molasses, star aniseed, clove, cinnamon, red pepper, coriander, rice bran oil, tomato paste, vegetable oil, tamarind paste, paprika, mushroom powder, yeast extract, tempeh culture, citric acid, red food colouring (E124), (truffle oil), flavouring, edible gum.

黄豆天贝、日式酱油、焦糖、糖、麦芽糖、糖蜜、八角、丁香、桂皮、辣椒、香菜米油、番茄酱、菜油、罗望子果酱、辣椒粉、蘑菇粉末、酵母膏、天贝酵母、柠檬酸、红色食用色素 (E124)、(松露油)、调味香料、黄原胶
How long can Tempeh Bak Kwa be stored?

As we do not add preservatives, we recommend to finish eating the tempeh bak kwa within 30 days and keep it chilled. Please store in the fridge and consume within 30 days.

必须保存在冰箱中,并在 30 天内食用
Will you sell the Tempeh Bak Kwa outside of Chinese New Year period?

Angie's Tempeh Bak Kwa is handcrafted in Singapore, which is highly time consuming. We will only make this once a year for the CNY festive season.

"安琪天贝肉干"是手工自制的,非常费时。因此,我们只能在农历新年时期,一年一次售卖。
Yumm...

"I really love the sauce. When it is warm, it really has that Bak Kwa taste."

I wait for it every year!

"My kids keep asking me for Angie's Tempeh Bak Kwa."

Vegan-friendly, allium-free

"I love that I can buy this for my vegan and vegetarian friends!"
See all availble slots below...
Hurry before we are all booked out!